Купить Cook, Serve, Delicious! STEAM KEY REGION FREE GLOBAL дешево
Моментальная доставка
Гарантии
Открытые отзывы
Стабильная тех. поддержка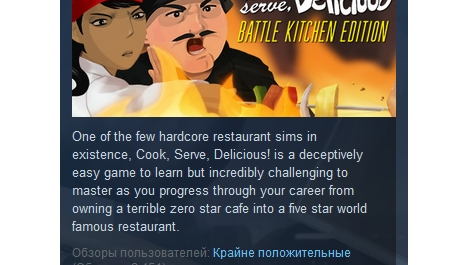 На товар предоставляется скидка постоянным покупателям. Если общая сумма покупок товара больше чем:
https://store.steampowered.com/app/247020/Cook_Serve_Delicious/
💎💎💎💎💎💎💎💎
STEAM KEY REGION FREE GLOBAL

NEW UPDATE! Cook, Serve, Delicious: Battle Kitchen Edition is a brand new free expansion that provides all new local multiplayer modes and weekly challenges! From 25 indie guest cameos to tons of new features and improvements, CSD: Battle Kitchen will challenge even the most hardened cook. Some of the new features include:

★ Weekly Challenges- Face off with your friends and the Steam leaderboard as you compete for the fastest times. A new challenge awaits every week!
★ Tag Team Local Multiplayer- Grab some controllers and play up to four players locally as you take turns manning the chef station in Battle Kitchen. You only have fifteen seconds to cook, and five seconds to explain to the next cook what to do first! Good luck!
★ Strike Challenges- Take on twelve brand new challenges on your own or up to four players tag team with adjustable difficulty settings. Warning: these challenges can be extremely difficult!
★ Endurance Mode- For one player or up to four Tag Team players, Endurance Mode has you making as many foods as possible perfectly, all while having to answer Chef Risotto`s calls and switching out menu items and upgrading them while you`re cooking. How long can you last? Also includes the new eSports Endurance Challenge, an event that ups the difficulty to an extreme degree!
★ Co-op Campaign- Play the campaign mode with a friend using your current save! One person is the expediter, who must give orders to the chef and send them out when they`re fully cooked, and the other is the chef, unable to choose orders but must cook or do anything the expediter gives them. Tag each other to switch positions on the fly, and make your way from a zero star cafe to a five star restaurant! (co-op can be enabled or disabled at any time in the main menu of the campaign mode).
★ Game Improvements- A huge array of game improvements and additions have been added to the game! For more, visit the official announcement page here: http://steamcommunity.com/games/247020/announcements/detail/204114190854399404
---
Cook, Serve, Delicious is a hardcore restaurant sim, one of the few in its genre that gives the players total control over where they want to take their restaurant.

The game centers on an old, worn down restaurant in the SherriSoda Tower, which was once the heart of the building but closed down as business (and tenants) dropped to an all time low. But with the local economy rising back up and occupancy reaching its maximum, SherriSoda Tower has decided to bring back the old Cook, Serve, Delicious restaurant, and has given you complete control to bring it back to its old five star status of world class dining.

To do that, you'll start with a few thousand dollars and thirty foods to choose from to put on your menu, as well as a host of restaurant equipment and more. Nearly everything is unlocked from the start of the game for you to purchase; this is your restaurant, and you must figure out the best strategy to get that restaurant packed with satisfied customers. Can you prove your culinary skills?

And if that weren't enough, you'll also have the opportunity to be cast in the Iron Cook television show, throw parties for offices in SherriSoda Tower, read virtual mail in your SherriSoda Tower Email account which ranges from game tips to crazy spam (nearly 500 emails in all), from customers providing feedback to your restaurant to opportunities such as being able to fund projects via "ClicknStart" and other big surprises!

ИНСТРУКЦИЯ ПО АКТИВАЦИИ:

1. Необходимо скачать и установить Steam http://steampowered.com/download/SteamInstall.msi
2. Зайти под своей учетной записью или зарегистрировать новую.
3. Перейти в раздел "Мои игры" и выбрать "Активировать через Steam...", и ввести ключ полученный после оплаты.
4. После активации, игра появится в списке игр (Библиотеке) и вы сможете её скачать
Положительный
Все ок, спасибо!
Положительный
Ключ получил сразу, очень рад.
Положительный
Все отлично!
Положительный
Спасибо. Как всегда, все отлично!
Положительный
Будем трапезничать...
Положительный
Спасибо, всё круто!
Положительный
всё работает, спасибо!
Положительный
Все отлично